On 11 August, Sogyal Rinpoche announced his retirement as spiritual director from all the organisations that bear the name of Rigpa in different countries around the world.
The decision follows a number of allegations brought against Sogyal Rinpoche, which have been widely shared on the internet. The governing boards and management teams of Rigpa have resolved to clarify the situation responsibly, in a way that is entirely consistent with ethical Buddhist values. They are also seeking professional and spiritual advice and plan to establish a new advisory group to guide the Rigpa organisation going forward.
As an international network of Buddhist centres, Rigpa continues to dedicate its efforts to making the Buddhist teachings of meditation, compassion and wisdom available to the modern world. The courses and programmes offered by Rigpa have helped many thousands of people around the world experience relief from suffering and find meaning in their lives.
Channels have been established to ensure that members of our community have the opportunity to express their wishes, views and concerns.
We will continue to post updates about plans for the organisation.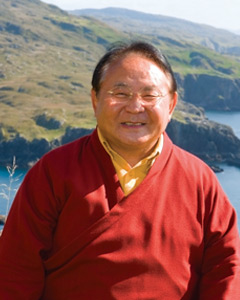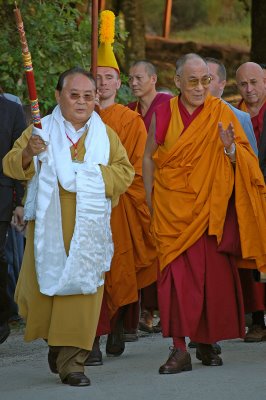 A world-renowned Buddhist teacher from Tibet, Sogyal Rinpoche is also the author of the highly acclaimed The Tibetan Book of Living and Dying. Born in Kham in Eastern Tibet, Sogyal Rinpoche was recognized as the incarnation of Lerab Lingpa Tertön Sogyal, a teacher to the thirteenth Dalai Lama, by Jamyang Khyentse Chökyi Lodrö, one of the most outstanding spiritual masters of the twentieth century. Jamyang Khyentse supervised Rinpoche's training and raised him like his own son.
In 1971, Rinpoche went to England where he received a Western education, studying Comparative Religion at Cambridge University. He went on to study with many other great masters, of all schools of Tibetan Buddhism, especially Kyabjé Dudjom Rinpoche and Kyabjé Dilgo Khyentse Rinpoche.
First as a translator and aide to his revered masters, and then teaching in his own right, Rinpoche traveled to many countries, observing the reality of people's lives, and searching how to translate the teachings of Tibetan Buddhism so as to make them relevant to modern men and women of all faiths, by drawing out their universal message while losing none of their authenticity, purity and power.
Out of this was born his unique style of teaching, and his ability to attune these teachings to modern life, demonstrated so vividly in his ground-breaking book, The Tibetan Book of Living and Dying. 2.8 million of The Tibetan Book of Living and Dying books have been printed in 34 languages and is available in 80 countries.
Rinpoche was also the founder of Rigpa, an international network of over 130 Buddhist centres and groups in 41 countries around the world. He has been teaching for over 30 years and travelled widely in Europe, America, Australia, and Asia, addressing thousands of people on his retreats and teaching tours.
In addition, Rinpoche was a frequent speaker at major conferences, addressing a wide variety of subjects, including medicine and healing, interfaith dialogue, peace and non-violence, business and leadership, and the field of serving the dying and hospice care.
.
Tertön Sogyal
In Tibet, there is a tradition of recognizing incarnations of great masters who have passed away. Sogyal Rinpoche, Rigpa's founder, was recognised as an incarnation of Tertön Sogyal.