Deepening Ngöndro
Monday evenings from 5 February 2018, 7-9pm
This course is designed for sangha members who are seeking to deepen their understanding and practice of the Ngöndro. There are no fees for this sangha course; it is included in your sangha membership.  Students will cover each part of the Ngöndro in a spacious way, drawing on teachings from the three year home retreat and other teachings.  It will run for the full year (less breaks) with the option of continuing into 2019.  Instructing Team: Ben Sadler, Katrin Ogilvy, Sue Whelan and Nigel Stone.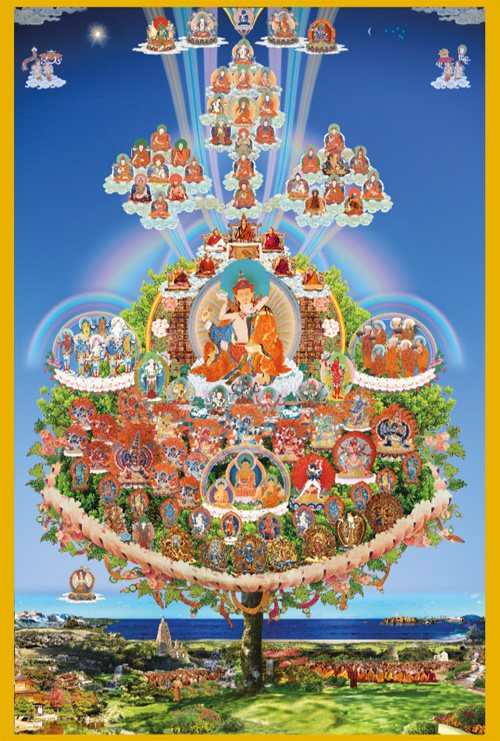 The Longchen Nyingtik Ngöndro is known as the Heart Essence of the Vast Expanse – the terma of Longchenpa, revealed by Jikme Lingpa (1730-1798).
What is Ngondro?
"To accomplish the good of others, we must perfect ourselves, by purifying and transforming our minds.  The is the aim of what we call the "preliminary practices", which establish the foundations of all spiritual progress." – Kyabje Dilgo Khyentse Rinpoche.
The preliminary or "foundation" practices (ngöndro) of Vajrayana Buddhism are profound and powerful means for effecting a deep purification and transformation, at every level of our being.  Not only do they prepare the practitioner for the profound path of Vajrayana and teachings of Dzogchen, but they also lead the practitioner gradually towards the experience of enlightenment.
Resources
Essential reading: 
Ngöndro Manual
Recommended reading: The Words of My Perfect Teacher by Patrul Rinpoche.  Both of these are available directly from ZAM, or by ordering through the Centre through Garry to avoid freight costs: 0407 367 712 or  gazroth@hotmail.com.  Order early.
To participate in the Intro to Ngöndro course, please click the 'Register Now' button.   
If you have any questions, contact Jenn on 0414 580 749 or jenny.anderson@melbourne.rigpa.org.au
February 5th, 2018 7:00 PM   through   December 31st, 2018 9:00 PM
Unit 7 / 200 Sydney Road

Brunswick

, 

VIC

 

3056

Australia